Mediation & Arbitration
For most of his career, Attorney Thomas Marshall has acted as a Hearing Officer, Arbitrator, Court Settlement Officer or Mediator. He is committed to the process of resolving legal disputes outside of court.
In family law or divorce, it is possible to settle all outstanding issues through discussion and negotiation. Mediation will not work for everyone. For those willing to make an honest disclosure of all assets and debts and make a good faith effort to deal with the children through a give and take process with your former spouse, the mediation process may work for you.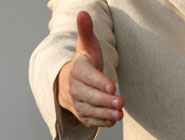 What is Mediation?
Divorce or dissolution of marriage can be an expensive, time consuming process. You will be involved in the Family Court system. You can spend considerable time and money in dividing your property and debts, determining where your children will live and with whom and figuring out how much money one of you pays to the other every month.
The divorce litigation process can totally drain you financially and emotionally. At the end of the process, you may be left angry, frustrated and broke.
Mediation offers an alternative to settle your case with the help of a trained mediator. You can make decisions regarding your children, income and property through discussion, not fighting in Court.
The mediation process will consist of several meetings with you and the mediator. You will exchange information regarding your assets, debts, and income. If you are able to reach an agreement, the Court is likely to accept your agreement as a settlement with limited involvement in Court. After the Court accepts your settlement, it is time to move on.